Find-Me Printing
Summary
Find-me Printing is Clarkson University's solution for on campus printing (black & white and color) and scanning for students, faculty and staff.
In this article:
More About Printing:
How to print:
From your University-owned device:

Choose Print.
For Destination, select from drop down menu:

Or from your personal wireless device:
Select desired options, then Print.
Take your Clarkson ID card* with you to any Find-Me Printer Location. Swipe your ID at the printer, select the print jobs on the touchscreen you want, and the complete print.
To update or replace Clarkson ID Cards, contact Campus Safety (315) 268-6666.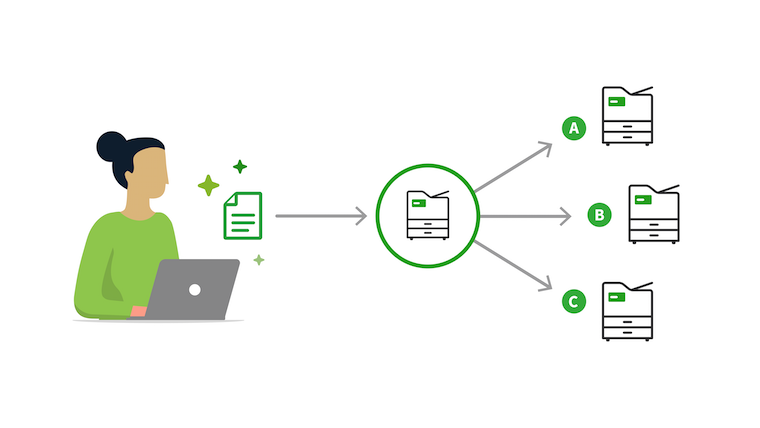 Background
Beginning in October 2022, Clarkson University deployed 40 BizHub printers which offer "FindMe" printing and "ScanToMe" options for students, faculty and staff on the Potsdam campus. 
Benefits
In this joint project with the Office of Information Technology and the Financial Office, the BizHub FindMe printer solution reduces paper and ink costs, and lowers support costs in the following ways:
Reduce Waste: Have you ever sent a print job and then changed your mind but it was too late and the job already printed? (Yes, we know this happens.) With BizHub's FindMe printing, those wasted print jobs are eliminated.
Lower Print Costs:  These new units will reduce the University's cost to print by approximately 40%. It is much less expensive to run these large, centralized units than it is to support desktop inkjet or laser printers.
Lower Support Costs: The use of these smart devices allows centralized oversight of connections and maintenance making it possible for support teams to monitor printing performance across campus. 
In addition to lowering costs, the BizHub solution offers these additional benefits:
More Equitable, Accessible Experience: All BizHub devices are equipped to print both black and white and color. This increases the availability of color printing, making printing more convenient and accessible. 
Confidential Printing: With BizHub's FindMe printing, concerns about sending sensitive or confidential information to an unsecured location go away. Individuals are there to receive their print job at the time it is printed.
Scan to Me: With BizHub's "Scan to Me" option, you will be able to quickly scan documents and have them sent directly to your email inbox without the need to enter your email address or select your name from a directory.  Want to send your scan to someone else?  No problem, you can manually enter an email address as needed.