Padlet: Create – Collaborate - Share
Padlet is a virtual bulletin board tool where you can post and share with your students, or have students share with you, or with the class. Padlet is very easy to use and can be used in many ways.
For educational purposes, it is an excellent tool for curating and sharing digital content, having discussions or debates, collaboration, and creating class community.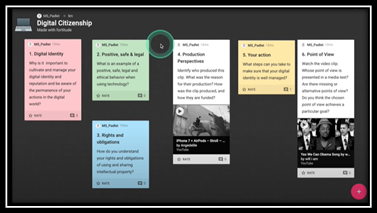 Step-by-step guide
Sign up and Log in
Go to padlet.com. You have at least two options for signing up for a Padlet account:
Use Google and sign up with your Clarkson University credentials OR
Use Clarkson University email and password
Then click the Log in button
Get Started
Watch this video for a quick overview – Learn How to Use Padlet (6 minutes). Then follow the steps below to get started with creating a Padlet assignment for your students.
You may also want to view the Padlet Tips & Tricks-How to Get Started on the Right Foot board.
Explore your Dashboard
The Padlet dashboard is very simple with a search tool, access to help, and your account profile on the right (fill in your information and add your image here to customize your account). Next, you have three choices to either Make or join a Padlet, or view the gallery.
1. Make a Padlet
Click Make a Padlet and select a Padlet style from the seven options by clicking on the pink SELECT button: Wall, Stream, Grid, Shelf, Map, Canvas or Timeline.
Scroll through the options and fill in the information as you decide is appropriate for your Padlet. This is where you will copy the link to your Padlet to share with others.
2. Join a Padlet
To join a Padlet, click Join and simply paste a Padlet URL that you have found:
3. View the Gallery
Click on Gallery to view dozens of shared Padlets to use or get ideas for your own creation or an idea for how students could use Padlet to engage, interact and share information: 
Get Help
To find help, tutorials, videos, social media and more, just click on the little ? in the upper right corner of your Padlet Dashboard or go https://padlet.com/support.
Want to find more about Padlet? Use this Google Search for everything you could ask for!